Stay informed
To subscribe, paste any of the links below into your RSS Reader or your browser:
Note: RSS is a format for delivering regularly changing web content.
Photos
To see some of my photos, follow these links:
View
When I was travelling over the hills with my camera, I took this photo: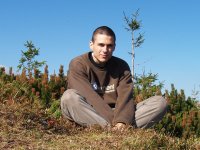 Note: This photo should be old and was taken aprox. 15 years before.
Welcome to my homepage. You can find some information about me and my life here.
King regards
Michal
Featured (web) projects
Featured galleries