Stay informed
To subscribe, paste any of the links below into your RSS Reader or your browser:
Note: RSS is a format for delivering regularly changing web content.
Photos
To see some of my photos, follow these links:
View
When I was travelling over the hills with my camera, I took this photo: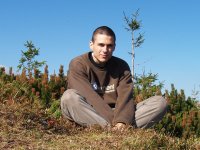 Note: This photo should be old and was taken aprox. 10 years before.
Email
You can contact me on my domain email.
Note: To display the email address you must have JavaScript enabled in your browser. For more information please read about HTML.
Mobile phone
Last 3 numbers are not available for public.
+421 917 393 ***
Jabber
XMPP is an open-standard communications protocol for message-oriented middleware based on XML. The protocol was originally named Jabber. This protocol is also compatible with Google Talk.
Facebook
Facebook is a social network service and website launched in February 2004 that is operated and privately owned by Facebook, Inc.