Stay informed
To subscribe, paste any of the links below into your RSS Reader or your browser:
Note: RSS is a format for delivering regularly changing web content.
Photos
To see some of my photos, follow these links:
View
When I was travelling over the hills with my camera, I took this photo: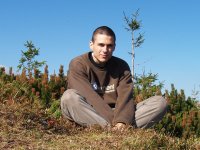 Note: This photo should be old and was taken aprox. 10 years before.
My name is Michal Novomeský.
Interests
| | |
| --- | --- |
| Computers | More about this can be found in my CV. |
| Badminton | Generally active playing and little bit coaching. |
| Photos | Taking pictures. Just a hobby. I like to do panoramas. |
| Lifestyle | Healthy living style. |
| Films | Films, stories. Science-fiction. Comedy ... |
| Christianity | Sense of life. |
| Guitar | Gospel. Worship. |
Curriculum vitae
To view my CV in PDF file format, you must have PDF reader installed.
Blog
It is possible to read some of my articles on these following links: